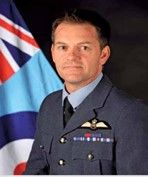 M E (Sammy) Sampson DSO CBE MA RAF
Defence Senior Adviser, Middle East
,
Royal Air Force, United Kingdom
Air Marshal Martin Sampson (known as Sammy) was born in 1966 and was commissioned into the Royal Air Force in 1986. A career single seat fast-jet pilot, his initial tour flying the Jaguar was followed by multiple tours flying the Harrier, the Eurofighter Typhoon as well as the vintage Spitfires/Hurricanes of the Royal Air Force Battle of Britain Memorial Flight. A Qualified Weapons Instructor, Electronic Warfare instructor and a Test and Evaluation pilot, he also served with the USMC in Arizona for 3 years flying the AV8B/F5. His United Kingdom based flying-related appointments include command of Number 1(Fighter) Squadron, where he introduced the Harrier GR9 into operational service, as well as Station Commander Royal Air Force Coningsby, Typhoon Force Commander and the UK 1-star Joint Force Air Component Commander. He is a Joint Officer who has served for extensive periods on board Royal Navy/ United States Navy aircraft carriers as well as with United Kingdom, United States and NATO land forces.
He has flown over 500 operational missions over Iraq, Bosnia, Kosovo and Afghanistan, and completed Joint Operational staff tours in United States Central Command, United States Marine Corps and a variety of NATO/Coalition Headquarters at home and abroad. For his operational flying command in Afghanistan he was awarded the Distinguished Service Order. For his 2-year deployment to Qatar as Air Officer Commanding 83 Expeditionary Air Group commanding the United Kingdom's air operations in Iraq/Syria, he was appointed Commander of the Order of the British Empire.
He has served in the UK Ministry of Defence in both Joint and Royal Air Force Staff appointments in policy, capability, acquisition and airworthiness spheres. These roles have included the specific areas of Joint Strike, ISTAR, Space, Special Capabilities, Air Transport and Air Refuelling, Theatre Ballistic Missile Defence, Defence Electronic Warfare and Cyber. As the Ministry of Defence 2-star Director Saudi Armed Forces Projects based in Riyadh, Kingdom of Saudi Arabia, his responsibilities extended to the commercial/industrial delivery and governance of major Government to Government acquisition and support programmes.
He is a graduate of Higher Command and Staff Course, Advanced Command and Staff Course and an associate graduate of Royal College of Defence Studies.
He was promoted to 3-star and appointed Defence Senior Adviser for the Middle East and North Africa in 2021. He is married to Jules (an Air Traffic Control Officer) and has 4 children. Outside of his family, his main interests are Arabic history, culture and language, collecting watches, traveling, reading and all sports. He is President of Royal Air Force Tennis, Royal Air Force Peregrines Tennis and Royal Air Force Canoeing, enjoying both sports when time allows.